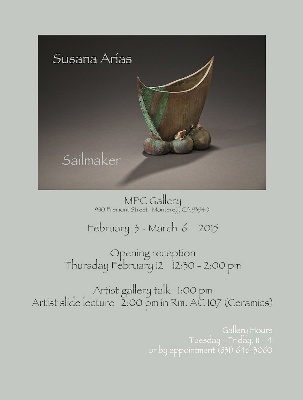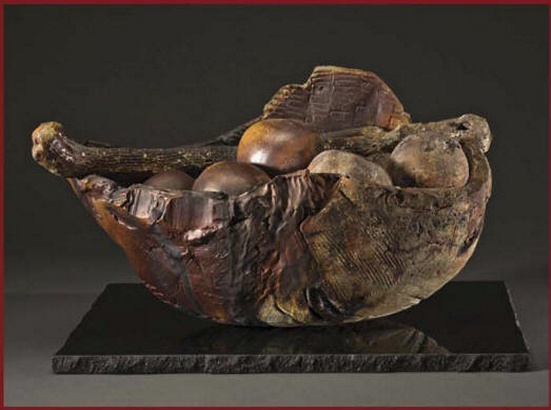 (C) 2015 All work on this copyrighted and may not be used or reproduced without the express permission from Susana Arias.
For any questions about artwork, commissions, please email Susana Arias.

This website was created by an Artist for an Artist. Your comments are most welcome. Please email the webmaven.


Sailmaker
February 3 - March 6, 2015
Monterey Penninsula College
980 Fremont Street
Monterey, California

EXHIBITIONS 2014


"Matices de las Americas"
El Centro Cultural de la Raza San Diego, California

"Sculpture IS 2014"
Sierra Azul Nursery and Gardens
Watsonville, California

"Collector's Choice"
Sylvia White Gallery
Ventura, California

"America's Clay Fest II"
Blue Line Arts
Roseville, California


Artist of the Year

July 19 - Sept. 22, 2013
The Museum of Art & History
705 Front St.
Santa Cruz, CA

Video of Sailmaker

Slide Show Sailmaker Series



Artists of the Year

Mar. 6 - April 14, 2013
Pajaro Valley Arts Council
37 Sudden St.
Watsonville, CA


Featuring Santa Cruz County Artist of the Year, Susana Arias

Over the last 28 years, the County of Santa Cruz County Arts Commission has selected and awarded "Artist of the Year?to 25 visual, performing, and literary artists, as well as two outstanding arts organizations. Artists are nominated by the public, and selected by the Arts Commission of Santa Cruz County. Criteria for selection include outstanding achievement in their discipline; contribution to the cultural enrichment of the local community; residence in Santa Cruz County; and national or international standing.